الإنجليزيّة | אנגלית | english
participating instruments:
corrugated cardboard box (previous use: organic bananas)
glass jug (previous use: 1 gallon of organic apple juice)
tuba in c (borrowed from dr. t)
accordion (didn't have one - used sound module)
soprano recorder (i actually had this)
rusty human voice
[score (37.5kb)]

featuring the voice of haggai matar, yaniv itzkovitz, david zonshein, noam wiener, amit mashiah, and robin damelin (mother to david damelin r.i.p.)
add this to your site
"Why would a regular guy like me get up one morning in the middle of life, work, the kids, and decide he's not playing the game anymore?"
-- Assaf Oron, Sergeant First Class, Infantry

I Am Your Spy
I'm part of the system. I signed this form. Only now I am reading the rest of it.
Free Mordechai Vanunu - Nuclear Whistle Blower
Nuclear technician Mordechai Vanunu is serving an 18-year sentence for consciously informing the public about Israel's secret nuclear weapons program.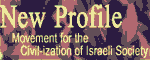 New Profile - Movement for the Civil-ization of Israeli Society
Changing the Profile of Israeli society from a militarized society of war and might, to an actively peacemaking community in which the rights of all people are respected and promoted equally, and the military occupation of others' lands ends.
Refuser Solidarity Network
A campaign to build support and visibility for the growing numbers of reservists and conscripts who refuse to fight a "War of the Settlements" in the occupied territories of the West Bank and Gaza Strip

Rotem Mor - Conscientious Objector
I choose not to be part of an army who's way I don't believe in. The Israeli army recognizes the right of conscientious objection, but does not release male soldiers on the grounds of it.
Seruv - Courage to Refuse
We shall not continue to fight beyond the 1967 borders in order to dominate, expel, starve and humiliate an entire people.
The Shministim (K12 Graduates) Letter
Some of us will refuse to serve beyond the green line, others will avoid military service in other ways - we view all these means as legitimate and necessary, and we call on other youth, conscripts, soldiers in the standing army, and reserve service soldiers to do the same.
Support Forum for Conscientious Objectors
Established to defend CO's and their right to refuse army duty on grounds of conscience. This fight is part of the struggle against the Occupation.

Yesh Gvul! (There is a limit!)
An Israeli peace group that has shouldered the task of supporting soldiers who refuse assignments of a repressive or aggressive nature.